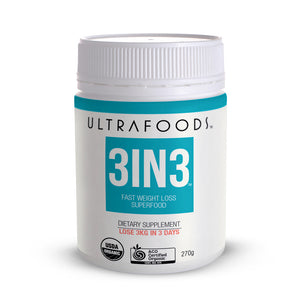 SAME PRODUCT - NEW NAME

Yes, you can achieve fast, effective & healthy weight loss.
Lose 3 kilos (or 6 pounds) in 3 days!

After just 3 short days, you will wake up feeling lighter, cleaner, energised and refreshed with an improvement in digestion, elimination, mental clarity, skin, and sleep.


FAST is a:
1. Weight Loss Formula
2. Protein Shake
3. Prebiotic Supplement
4. Fibre Supplement
5. Green Alkalising Supplement
6. Liver and Colon Cleansing Supplement
7. Super Antioxidant Drink
8. Immune Support Supplement
9. Energy Drink
You can join the conversation about FAST on our
"My Healthy 3 Day FAST" Facebook Group!

Please note:
*Results vary for individual participants.
**Fasting is not recommended for pregnant or breastfeeding women, or those who are severely underweight. If you are concerned about fasting and its effect on your pharmaceutical medications, please consult your medical doctor prior.
Vegan and Gluten Free
Store in a cool, dry place. Refrigerate after opening
For nutritional information please see the products 
Nutritional Panel
Purpose
Lose 3 kilos (or 6 pounds) in just 3 days!
*Results vary for individual participants.
After just 3 short days, you will wake up feeling lighter, cleaner, energised and refreshed with an improvement in digestion, elimination, mental clarity, skin, and sleep.
How to Use
Take 30g/1.05 oz. of FAST Weight Loss Superfood in a shaker of at least 250ml of water 3 times a day for 3 days and lose 3 kgs. That's it!
Tub contains enough for a 3 day fast with FAST.
Whenever you feel a hunger pang strike, just drink a glass of water. Our bodies often mistake thirst signals for hunger. Hunger (especially if you're overweight) is often just dehydration. So drink plenty of water and herb teas.

Take a break from the caffeine, if you can, as this can increase restlessness and anxiety which are not your friends during a fast.
When to Use
Depending on what your goals are, you can take FAST for consecutive cycles, for example, once a week or once every two weeks in the start and then every month or every season.
Extended FASTs over 6-10 days are also possible on an occasional basis or as per your own intermittent fasting program. We recommend that you consult your doctor prior to undertaking longer fasts.

Ingredients:
Certified organic sprouted brown rice protein, certified organic pea protein, certified organic inulin, certified organic sprouted pea fibre, certified organic acacia gum, certified organic amla (phyllanthus emblica) fruit powder, certified organic spirulina, organic wheat grass (triticum aestivum) juice powder, organic barley grass (hordeum vulgare) juice powder, certified organic yellow dock (rumex crispus) root, certified organic dandelion root, certified organic matcha green tea, certified organic aloe vera leaf, certified organic orange peel, certified organic peppermint leaf, certified organic sunflower lecithin, certified organic freeze dried olive juice extract, dried coffee fruit extract, certified organic luo han fruit protein
Customer Reviews
02/05/2022
Yuko M.

Australia
Fast weightloss
I have lost a few kilograms in 3 days. I highly recommend this product
11/27/2021
Ely H.

Australia
It works for me!
My goal is to lose 3 kgs, so I just do a one day fast fortnightly. It isn't easy for me though. I feel so hungry especially after midday. I keep drinking and still hungry. And the next morning I'm a kind of weak, I have my regular protein first before having my breakfast in 30 minutes. Indeed I lost one kilo for each fast and felt better especially in bowel movement. Sadly, I tend to pig out the day after the fast, so I put it back in no time. Keeping it off is another challenge to be honest.
11/20/2021
Alison K.

Australia
Fast Weightloss Superfood
It was palatable and worked very well BUT it talks of the scoop for measurements and there was not one in any of the ones I bought. I would also like more information as to why it is for 3 days only and when you can do it again. I am just fudging it.
Choosing a selection results in a full page refresh.
Press the space key then arrow keys to make a selection.